Nanae Suzuki vs Yuko Kuroki: World Boxing Organization women's atomweight title match, Shu Boxing Gym champion Nanae Suzuki and Yuko Fitness Boxing Gym challenger Yuko Kuroki will lead five women's championship bouts called Queens Crest 2022 on September 1.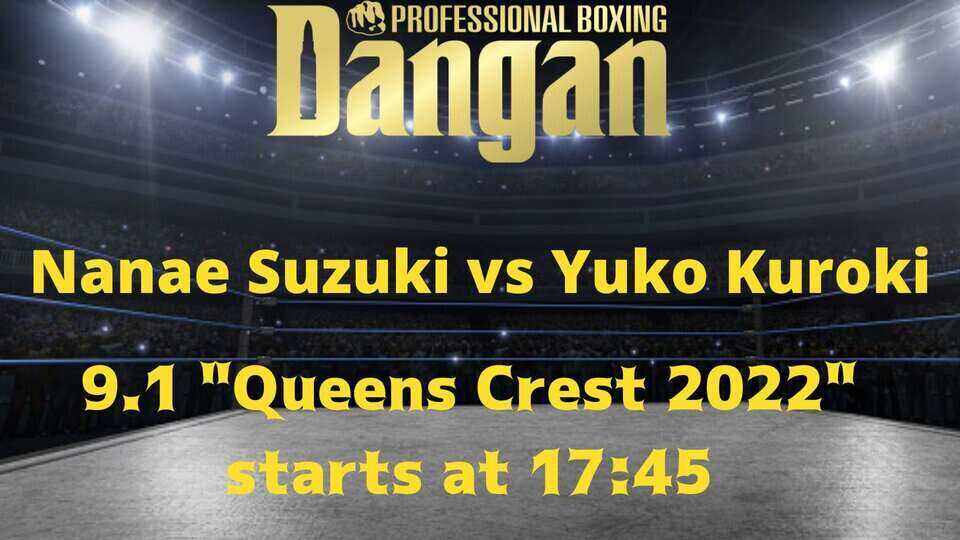 Nanae Suzuki vs Yuko Kuroki Preview
On September 1, 2022 (Thursday) at Korakuen Hall, genuine promotion, Misako promotion, and DANGAN will co-host the women's professional boxing show [Queens Crest 2022].
[Queens Crest] is a box office aiming to develop and expand women's professional boxing by teaming up with Shinsei Gym and Misako Gym, which have trained many female professional boxers and hosted the box office, and DANGAN, which has the No. 1 box office number in Japan.
Nanae Suzuki vs Yuko Kuroki Overview
Event: Queens Crest 2022
Date: Thursday 09.01.2022 at 07:00 AM ET
Venue: Korakuen Hall
Location: Tokyo, Japan
Weight: 46 kg (102.0 lbs)
Title on Line: WBO World Female Atomweight Title
Nanae Suzuki vs Yuko Kuroki Fight Card Queens Crest 2022
Main Match WBO Women's World Atomweight Title Match Nanae Suzuki (Champion/Shu) vs Yuko Kuroki (YuKO)
Semifinal IBF Women's World Atomweight Title Match
Ayaka Miyao (champion/Watanabe) vs Mika Iwakawa (Himeji Kinoshita)
6th match OPBF Toyo Pacific Women's Atomweight Championship
Match Eri Matsuda (TEAM10COUNT) vs Kaori Nagai (Masei)
5th match Japanese women's flyweight championship decision
Mizuki Hikita (Misako) vs Hinami Yanai (Mamasa)
4th match WBO-AP Women's Atomweight Championship Decision Battle
Sumire Yamanaka (Masei) vs Honoka Kano (Setagaya Okura)
3rd match Women's minimum class 4th round
Kanae Maehara (Misako) vs Nao Ugawa (FLARE Yamagami)
2nd match Women's Atom class 4th round
Reiko Mori (DANGAN Koshigaya) vs Emily Abe (Hanagata)
1st match Women's flyweight 4th round
Nozomi Fukuya (Misako) vs Moeko Okada (EBIS K'sBOX)
tickets:
VIP seat: 20,000 yen
RS reserved seat: 15,000 yen
S reserved seat: 10,000 yen A reserved
seat: 6,000 yen
Sumire Yamanaka of the new gym will face Honoka Kano of Setagaya Okura Boxing Gym for the vacant WBO Asia Pacific Atomweight Championship.
In addition to these, three female for-rounders are scheduled.
9.1 "Queens Crest 2022" starts at 17:45

Nanae Suzuki vs Yuko Kuroki
Ayaka Miyao vs Mika Iwakawa
Eri Matsuda vs Kaori Nagai
Mizuki Hikita vs Hinami Yanai
Sumire Yamanaka vs Honoka Kano

Read more: https://t.co/9b00Chu0IZ#QueensCrest#QueensCrest2022 pic.twitter.com/ApLfMkQmcn

— Mosi Sports (@mosisports) August 31, 2022
At the press conference, Suzuki said, "This is my first title defense, so I'll do my best." I am determined to win the battle clearly so that I can compete with Mr. Miyao.
Mr. Miyao, who set the goal of unifying the world's four atomic weight crowns, said, "I've always wanted to become stronger, so unifying the titles of the four world-recognized organizations is the easiest path."
Read More: Andy Ruiz vs Luis Ortiz boxing fight Sept. 4