Andy Ruiz vs Luis Ortiz: On the night of September 4, in Los Angeles (USA), the top heavyweight fighters will meet in a head-to-head confrontation – the former combined world champion American-Mexican Andy Ruiz and the former two-time challenger from Cuba Luis Ortiz.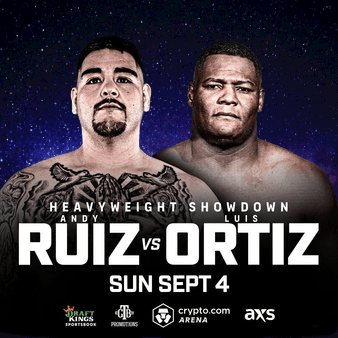 Andy Ruiz vs Luis Ortiz Overview
Title: Heavyweights
Date: September 4, 2022
Time: 10:00 PM ET, Main event: 12 AM ET
Round: 12 rounds
Location: Los Angeles, USA
Live Stream: Fox PPV
Andy Ruiz vs Luis Ortiz Fight Card
Andy Ruiz Jr. vs Luis Ortiz
Isaac Cruz vs Eduardo Ramirez
Abner Mares vs Miguel Flores
Jezzrel Corrales vs Jose Valenzuela
Mike Plania vs Raeese Aleem
Kevin Salgado vs Joey Spencer
Charles Martin vs Devin Vargas
J. Garcia vs Gilberto Mendoza
Oscar Perez vs Anthony Cuba
Anthony Garnica vs J. Lopez
Jesus Silveyra vs Matt Gaver
Mickel Spencer vs Deljerro Revello
Andy Ruiz Jr: (34-2, 22 KOs)  statistics
Country: USA / Mexico
Age: 32
Height: 188 cm
Profibox record: 34-2, 22 KOs
Total fights: 36
Record: 34-2 with 22 wins
Andy Ruiz Jr.
The amateur stage of his career ended with a record of 105-5. He tried to break into the 2008 Olympic Games, but lost in the qualification, after which he switched to professionals.
In 2012, the opposition level was increased to the prospect, and the first titles went from the next year. The most solid scalp at this stage of his career is ex-world champion Sergei Lyakhovich.
In 2016, he entered the title fight for the first time – on the road he controversially lost to Joseph Parker in the battle for the vacant WBO belt.
He returned to boxing after a long pause. In 2019, as a late replacement, he took the fight with the unified world champion Anthony Joshua and sensationally delayed him in 7 rounds. In the same year, a rematch took place, mediocrely lost by Ruiz on points.
Since then, he had only one fight – he did not impress in a fight with the age-old Chris Arreola – he visited the canvas, won on points.
Andy Ruiz vs Luis Ortiz boxing fight Sept. 4

Date: September 4, 2022
Time: 10:00 PM ET, Main event: 12 AM ET
Round: 12 rounds
Location: Los Angeles, USA

Andy Ruiz Jr.
(34-2, 22 KOs)

Luis Ortiz
(33-2, 28 KOs) pic.twitter.com/DHdUo1TMaj

— Mosi Sports (@mosisports) August 31, 2022
Luis Ortiz: (33-2, 28 KOs) statistics
Country: Cuba
Age: 43
Height: 193 cm
Profibox record: 33-2, 28 KOs
Total fights: 37
Record: 33-2 with two no-contests, 28 wins
Luis Ortiz
The amateur stage of his career ended with a record of 343-19. He was the champion of Cuba, represented the country at the Pan American Championship (gold) and the World Championship (relegation to the ¼ finals).
He started his professional career in 2010.
In 2014, he signed a contract with Golden Boy Promotions, which immediately bore fruit – he became the "interim" WBA champion, but was stripped of the title due to a positive doping test.
In 2015, he again took this semi-title, after which he was noted for a couple of significant victories – defeated Bryant Jennings and Tony Thompson.
In 2017, he was supposed to fight for the WBC belt with Deontay Wilder, but again got caught for doping. The fight took place in 2018 – the Cuban during the fight was close to an early victory, but lost by a late knockout.
After a series of intermediate bouts, he got a chance to rematch with Wilder. The fight was dictated by Ortiz, but in the 7th round the champion delivered his blow to the target and won by knockout.
Since then, the veteran has two fights. The first was intermediate, in the second, ex-world champion Charles Martin passed not without problems.
Andy Ruiz vs Luis Ortiz Fight Prediction
Both boxers prefer to act as the first number. Southpaw from Cuba is a pronounced puncher, boxing because of the jab. He mainly accelerates the attack from a long distance (often with twos), and close up he is good at using hooks.
What Ortiz lacks in speed, he makes up for with great schooling: attack angles, footwork. The main problem of the Cuban – age – is increasingly losing concentration, in a duel with Martin he looked "broken", he moved heavily and heavily.
Ruiz is an infighter. Fighter with the highest manual speed. The problem of the ex-champion is in the ability to shorten the distance. Often, at the same time, he acts in a stereotyped way, without fiction, slowly (simply hiding behind a block). Often forces events – breaks into unprepared attacks.
Both fighters frankly looked unimportant in the last fights held, both were on the verge of defeat. Both have trump cards that offset the advantage of the opponent (the power of Ortiz against Ruiz's workrate / the calmness of the Cuban against the "emotional", explosive boxing of the American-Mexican).
It is in such fights that there is a reason to bet on the underdog, because by and large, in fact, this is a fight from the 50/50 series, in which both heavyweights have their drawbacks: everyone remembers Ortiz's age, but many forget that Ruiz has spent just one fight – he changed coaches more often than he entered the ring.
It seems that both need to start the fight slowly and carefully, with an eye on the rear. But we will remind you again that the "element" of these fighters is an attack.
Forecast: early victory of Ruiz (to the equator) – if he hooks a veteran, he will not let go.
Watch Andy Ruiz vs Luis Ortiz Live Stream
Andy Ruiz vs Luis Ortiz Fight date
Andy Ruiz vs Luis Ortiz will take place on September 4 local time at the Crypto.com Arena in Los Angeles (USA).
Broadcast start
The live broadcast of the show will begin on September 4 at 4:00 in Kyiv or Moscow.
Ruiz vs Ortiz fight result
The results of the show's main fight in Los Angeles, as well as the rest of the top fights of the evening, will appear on our website as soon as possible – stay tuned!
Read More: Upcoming boxing schedule 2023