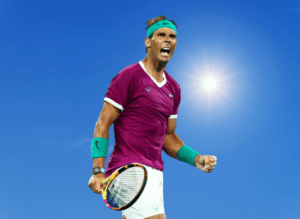 Rafael Nadal wins record: Men's Final Australian Open 2022
Rafael Nadal won his 21st Grand Slam championship on Sunday, beating Daniil Medvedev 2-6, 6-7 (5-7), 6-4, 6-4, 7-5 in the 2022 Australian Open men's singles final, breaking a three-way tie with Roger Federer and Novak Djokovic.
Age number only, who's ahead of what happened in the previous tournament, all this is relative. Once the game starts, everything can be won with indomitable courage and confidence. Tennis legend Nadal proved once again. A thrilling match in the men's singles final of the Australian Open 2022 at Rogers Laver Arena in Melbourne. Sports fans witnessed shortness of breath tennis. Despite winning the first two sets, Russia's Daniel Medvedev could not beat Spanish legend Rafael Nadal.
Rafael Nadal, on the other hand, made history by winning the Australian Open. He is now the first player in the world to hold a total of 21 Grand Slams. The world record in the game of tennis. The men's singles final of the Australian Open lasted more than 5 hours and 24 minutes. Rafael Nadal won the game 6-4, 6-4 and 6-5. This is Rafael Nadal's subsequent Australian Open title. This victory came after a long wait of 13 years. In 2009 he last won the Australian Open.
This is the only Spanish player to have won a Grand Slam at the Australian Open. World number two Daniel Medvedev, on the other hand, lost to Rafael Nadal in the first and second sets. But at the end of the second set and then in three sets Nadal made a great comeback and won the match. The two tennis stars made a lot of mistakes in this match. But in the end, Nadal snatched the victory from Medvedev. Nadal once again showed that experience is not easy to beat.