RIZIN 34: Satoshi Yamasu vs. Kyohei Hagiwara the match card announcement of "RIZIN.34" to be held at Maruzen Intec Arena in Osaka on March 20th (Sun) was held on the 3rd, with TEAM ONE and former Rajadamnern Stadium certified lightweight champion Genji Umeno. (PHOENIX) has decided to rematch for the first time in 9 months.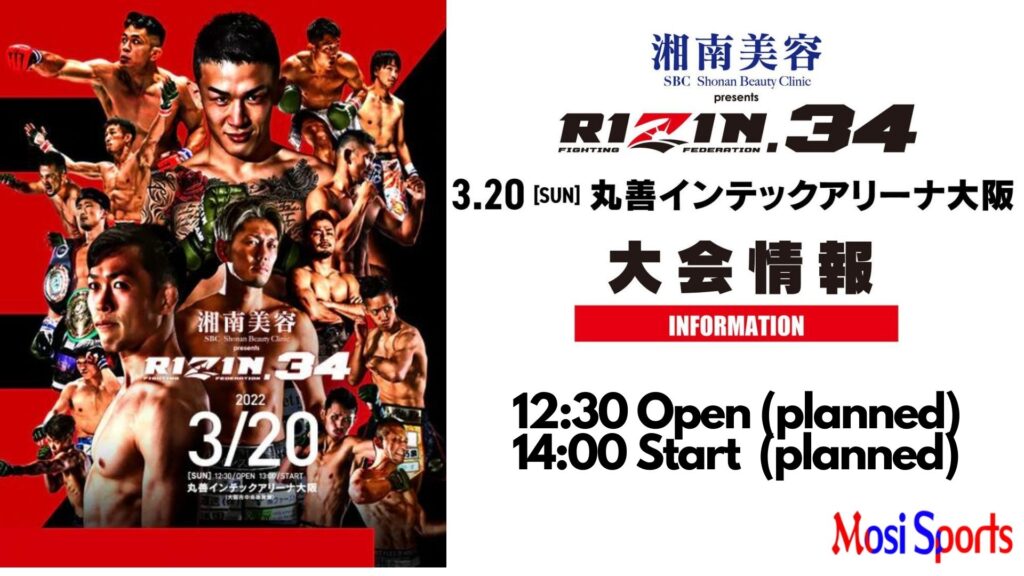 It will be held in the semi-final under the RIZIN kickboxing rule (3 minutes 3R) with a 61kg contract.
Ex-Ultimate Fighting Championship combatants Kiichi Kunimoto (20-8-2, 1 NC) and Daichi Abe (9-5) will fight in the welterweight division. Since leaving the UFC in 2017, "Strasser" has not lost in the Rizin ring, and those three victories account for his only victories. Abe made his promotional debut at Rizin 31 in October 2021, where he was defeated by Akira Okada with the second north-south choke in Rizin history, ending his three-fight winning run.
Other notable MMA bouts on this long evening in Japan include Juri Ohara (29-17-2, 1 NC) vs. Okada (17-8-4), Satoshi Yamasu (11-6) vs. Kyohei Hagiwara (6-4) at 145 pounds, and Daisuke Nakamura (32-20-1) vs. Sora Yamamoto at featherweight (9-4).
RIZIN 34: Satoshi Yamasu vs. Kyohei Hagiwara Overview
Event date: March 20, 2022 (Sun)
Starting time: 12:30 Open (planned) 14:00 Start (planned)
Promotion: RIZIN Fighting Federation
Ownership: Nobuyuki Sakakibara
Venue: Maruzen Intec Arena Osaka
Location: Osaka, Japan
Tickets price
VIP seat: ¥100,000 (with benefits)
SRS seat: ¥30,000
S seat: ¥20,000
A seat: ¥10,000
Ticket office:
Ticket Pia
Lawson Ticket
#RIZIN34: A featherweight showdown between Satoshi Yamasu and Kyohei Hagiwara will serve as the featured bout at Rizin Fighting Federation 34 on March 20.
Sponsored by
RIZIN FIGHTING FEDERATION
Crown sponsor
Shonan Beauty Clinic pic.twitter.com/6QBIUAL97Z

— Mosi Sports (@mosisports) March 8, 2022
Shonan Beauty Clinic presents RIZIN.34 Tickets
for the first 2022 number series "Shonan Beauty Clinic presents RIZIN.34" to be held at Maruzen Intec Arena Osaka on March 20th (Sun) will be on sale. Special one match is Yamasu Dominator Satoshi vs. Kyohei
RIZIN 34: Satoshi Yamasu vs. Kyohei Hagiwara Battle card
Featherweight
Satoshi Yamasu vs Kyohei Hagiwara
Daisuke Nakamura vs. Sora Yamamoto
Welterweight
Kiichi Kunimoto vs. Daichi Abe
Lightweight
Juri Ohara vs. Akira Okada
Yuya vs. Yousuke Yamato
Masaya Jaki vs. Kouta
Bantamweight
Alan Yamaniha vs. Motonobu Tezuka
Kouzi vs. Genji Umeno
Taiga vs. Ryo Takahashi
Yuuki Kashihara vs. Motoki
Flyweight
Daichi Kitakata vs. Yutaro Muramoto
Tatsuki Saomoto vs. Yuto Uda
139-pound catchweight
Ryuki Kaneda vs. Ayumu Yamamoto
Yuma Yamahata vs. Sho Ogawa
132-pound catchweight
Ryuya Fukuda vs. Masayuki Watanabe
Sato Ryo vs. Shun
117-pound catchweight
Jin Mandokoro vs. Sato Syuto
Osaka Tournament MMA additional card Satoshi Yamaniha 18 rounds 12 wins 6 defeats
Kyohei Hagiwara 10 rounds 6 wins 4 defeats Kiichi Kunimoto 32 rounds 20 wins 9 defeats 2 draws
NC Daichi Abe 14 rounds 9 wins 5 defeats Northern Earth 34 rounds 21 wins 10 losses
Yutaro Muramoto15 game 8, wins, 5 losses, 2 draws
Alan Hiro Yamaniha 31 games, 18 wins, 9 losses, 4 draws
Motonobu Tezuka 56 games, 37 wins, 13 losses 6 draws