Tokyo Marathon 2022: On Sunday, March 6th, the Tokyo Marathon, which will no longer be held from March 2020, will finally be held. Nearly 25,000 athletes hit the streets of Japan's largest city, chasing the finish line and personal best. The 2021 Tokyo Marathon was held in October last year until the COVID-19 Delta variant was forced to postpone. Race officials have decided to move the 2021 edition on March 6th this year and officially cancel the 2022 race.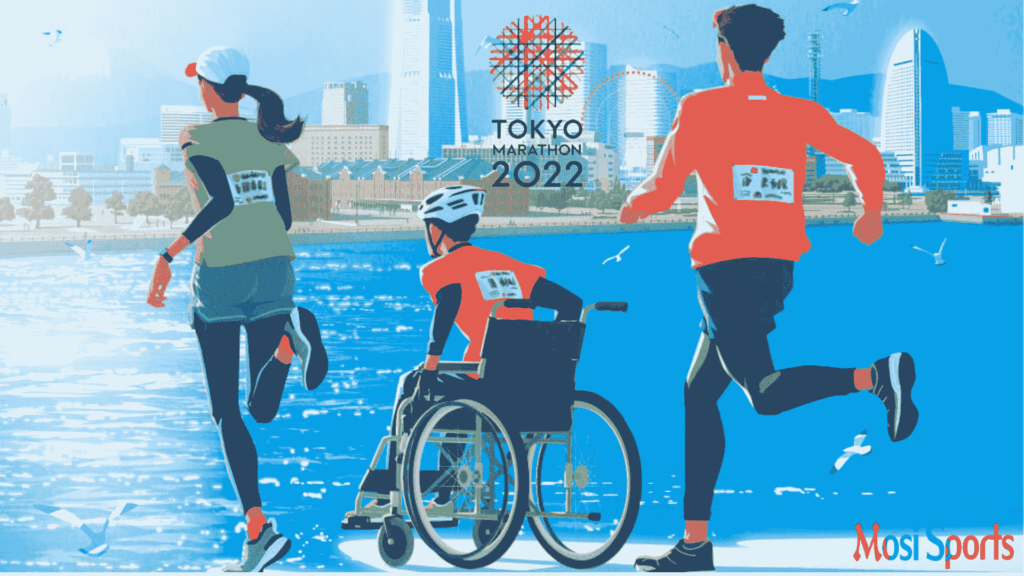 The Tokyo Marathon is a major event in early spring with about 40,000 participants every year. A wide variety of runners will participate, from top runners aiming for the Olympics to those who have never run a marathon. Some people may not have been interested in the marathon at all, while others may have started practicing in the wake of the Tokyo Marathon.
It's still a chilly season in early spring, but the heat of the marathon is tremendous. Not only the participants but also many people are looking forward to seeing and cheering along the road.
Tokyo Marathon 2022 Overview
Event: Tokyo Marathon 2022
Race Date: March, 06
Time: 09:10 am
Venue: Tokyo Marathon Course (Tokyo)
Capacity: 7,500
Participation age:
Marathon: 19 years old or older (24,700 people)
10km: 16 years old or older (300 people)
Participation fee:
Marathon: Domestic 16,500 yen, Overseas 18,500 yen
10km: Domestic 5,600 yen, Overseas 6,700 yen
Capacity:
7,500 (Total number of volunteer leader support, leader members, junior team members)
*Capacity is subject to change.
Tokyo Marathon 2022 Schedule:
09:05 Wheelchair Marathon/Wheelchair 10km Start
09:10 Marathon/10km Start
11:10 10km Competition End
16:10 Marathon Competition End
Tokyo Marathon 2022 course:
Marathon:
Tokyo Metropolitan Government-Suidobashi-Ueno Hirokoji-Kanda-Nihonbashi-Asakusa Kaminarimon-Ryogoku-Monzen Nakamachi-Ginza-Tamachi-Hibiya-Tokyo Station / Gyoko-dori
10km:
Tokyo Metropolitan Government-Suidobashi-Kanda-Nihonbashi
The Tokyo Marathon is not only a full-scale 42.195km marathon but also a 10km competition.
Tokyo Marathon 2022 Number of entries:
Only individuals (1 person) ※There is no group entry.
The decision of participants:
In the case of a large number of entries, a lottery will be held, and the lottery results will be notified by mid-January 2022 (planned).
See: Tokyo Marathon (Men/Women) Results, News, Winner March 6, 2022
What is the prize money for the marathon event?
The Tokyo Marathon isn't just about running, it's also about getting prizes. The first place is 11 million yen! The second place is 4 million yen, so it's more than double.
By the way, the 3rd place is 2 million yen, the 4th place is 1 million yen, and the 5th place is 750,000 yen. And the marathon event is a record. Well, a new record for the tournament! There is something like that.
If you set a new record, you will get a prize for it. If you set the world record, which is the best among them, you will get a prize of 30 million yen! And the Japanese record is 5 million yen and the tournament record is 3 million yen.
2022 Tokyo Marathon TV/Broadcast Information
The Tokyo Marathon 2022 will be held on Saturday night (7:10 EST) in prime time for US visitors. Broadcast details are shown below but are basically posted on Eurosports in Europe, Canal + in Africa, Great Sports Media in China, and ESPN International in all regions except Japan.
Where can I watch Broadcast Tokyo Marathon 2022?
If the match is aired on NHK, Premier Sports subscribers will be able to broadcast the Tokyo Marathon 2022 live directly with the Premier Player via a television channel. We do not provide TV schedules here. If you want to watch this match on TV, you can find it on more popular channels such as Fuji TV, NHK, JFA TV, Nippon TV, FUBOTV, etc.
東京マラソン 2022 イベント速報、日程、開始時間、会場、参加者

お知らせ: 2021年のイベントが延期されたため、2022年のイベントは開催されません。https://t.co/AnSoVuC3Ip

— デイリースポーツニュース (@jpodsn) March 3, 2022
Goods paid:
Volunteer wear caps, etc.
– As part of our efforts to achieve sustainability through the Tokyo Marathon, some of the items provided have been reused from the Tokyo Marathon 2020.
– No caps will be paid for activities at Tokyo Marathon EXPO 2021 (runner reception).
– There is no compensation, meals, or transportation expenses.
– New coronavirus infection countermeasure goods (masks, etc.) will also be provided.
– Items are subject to change without prior notice.
– Item are change to subject without prior notice.
Whether or not to hold a tournament:
Criteria for the decision to cancel the tournament
(1) If a state of emergency has been declared one month before the tournament due to the spread of the new coronavirus infection, or if a request from the local government has issued a self-restraint request, the tournament will be canceled.
(2) In addition to the above, if it becomes difficult to operate the tournament safely due to the occurrence of a natural disaster, the tournament will be canceled.
Participation qualifications and conditions:
– Must be a member or volunteer, of the Tokyo Marathon Foundation's official volunteer club.
– Be a VOLUNTEER leader registrant.
– If you enter on the day of the Tokyo Marathon 2021, please select the activity block until the third hope.
– Volunteer activities must be possible at the date, place, and content designated by the VOLUNTAINER Secretariat.
– Be able to participate in volunteer leader briefings by activity at the time designated by the VOLUNTAINER Secretariat.
– Be sure to submit attendance registration and activity reports.
– Agree to the Entry Rules,​ ​the Rules for Measures against Infectious Diseases, etc., and the Rules of Participation.​
Precautions:
– Activities cannot be selected. It may be placed in a place other than the place and content that you do not have any activity experience or the desired block.
– Activity blocks and volunteer leader briefings by activity will be updated and notified in mid-January 2022 (planned) and activities will be updated and notified in early February 2022 (planned).
– The activity time, location, content, and date and time of various briefing sessions are designated by the VOLUNTAINER Secretariat.
– Please note that the start block has an early morning meeting time (the leader gathers at 6:00).
– The time of volunteer leader briefing sessions by activity varies depending on the activity block and activity content. When entering, be sure to check the date and time of the volunteer leader briefing session by activity of the desired activity block.
– In order to work as a leader, it is essential to participate in volunteer leader briefing sessions by activity and to verify your identity. Please bring identification documents designated by the organizer.
– If you do not participate in volunteer leader briefings by activity, you will be invalidated and you will not be able to participate as volunteers. * Rights cannot be transferred to the next tournament.
– The number of leaders is expected to be canceled, and there are places where two or more leaders per activity are assigned.
– Depending on cancellations or absences from various briefing sessions, it may be necessary to adjust the placement of the activity location. We may ask you to change the activity location or the date and time of the leader briefing session according to it, so please cooperate.
– Multilingual members will be assigned depending on the activity.
– Manuals and activities will be posted on the participant's VOLUNTAINER My Page. There is no manual to be sent to you.
– We do not allow resale, auction listing, campaign use of goods, etc. provided by the organizer.
Tokyo Marathon 2022 News Statistics
Traffic restrictions will be enforced in various parts of Tokyo in line with the Tokyo Marathon held on March 6 (Sun). The Tokyo Marathon Foundation is calling for refraining from going out by car due to the congestion of the tournament course and surrounding roads.
Starting from the Tokyo Metropolitan Government, Yasukuni Dori, Chuo Dori, Kiyosumi Dori, etc. will be used as courses, and it will be impassable for a long time. Recommended routes include Gaien Higashi-dori, Yamate-dori, Meiji-dori, Wangan-dori, and Kaigan-dori.
Not only cars but also bicycles and pedestrians are restricted from crossing the course. Regulations will start at 6 am around the Tokyo Metropolitan Government Building, the starting point. Regulations and cancellations will be carried out as the race progresses. Except for the section from Gyoko-dori to the finish point, the regulation is scheduled to be lifted by 16:30, but it may be changed depending on the competition situation on the day.
In addition, some entrances and exits of the Metropolitan Expressway are also prohibited. No. 4 Shinjuku Line Shinjuku Exit, No. 5 Ikebukuro Line Iidabashi Exit, No. 6 Mukojima Line Hamacho Exit, Central Circular Line Shiba Park Entrance, Yaesu Line Marunouchi Exit are subject to regulation