4th Aya Lake Relay Marathon 2022 will be held on March 20 at Saiko Doman Green Park Athletics Stadium. It is a relay marathon event that aims to share the splendor and enjoyment and promote the improvement of physical strength and athletic ability.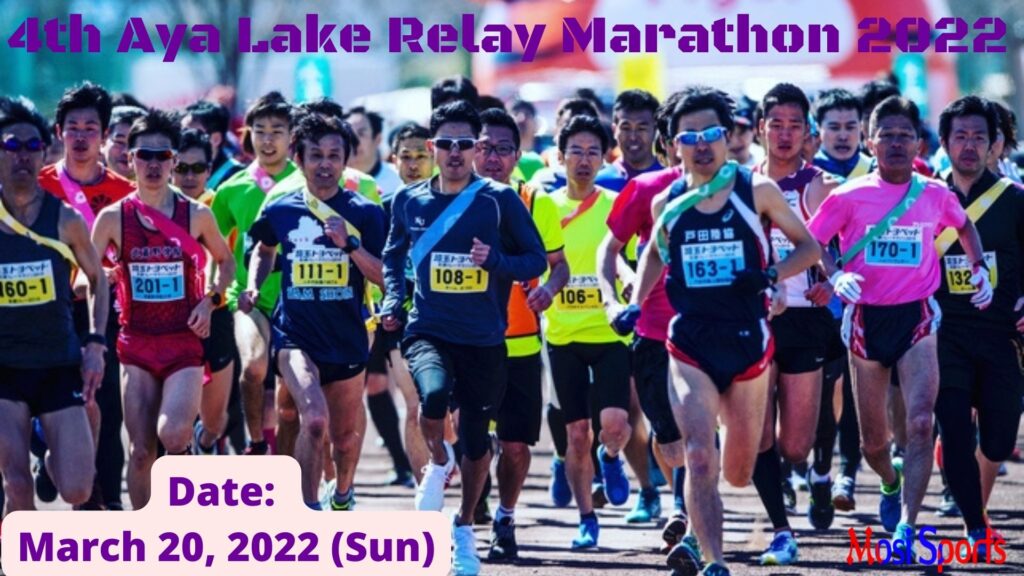 4th Aya Lake Relay Marathon 2022 Overview
Date: March 20, 2022 (Sun)
Opening ceremony: 9:30
Competition start: 10:30
Closing ceremony: 13:00
Capacity: First 200 teams
Venue:
Saiko Doman Green Park Circular Course
745 Omose, Toda City, Saitama Prefecture, etc.
Organizer: Running Silent Spirit
director: Aya Lake Relay Marathon Executive Committee
Special sponsorship: Saitama Toyopet Co., Ltd.
Participation fee:
1 team: 20,000 yen
Junior high school students 1 team: 10000 yen
1 person: 4,000 yen
4th Aya Lake Relay Marathon 2022 Awards:
Present certificates, etc. to each category up to 3rd place.
There is a section prize. In addition to the winning teams of each group, a special prize will be presented separately.
Men's team: Certificate/Supplementary prize
Women's team: Certificate/Supplementary prize
Mixed team: Certificate/Supplementary prize
Student team: Certificate/Supplementary prize
4th Aya Lake Relay Marathon 2022 Live/TV Broadcast
If the marathon is aired on NHK TV, Premier Sports subscribers will be able to broadcast the 4th Aya Lake Relay Marathon 2022 live via premier players and direct television channels. We do not provide TV schedules here. If you want to watch this match on TV, you can find it on more popular channels such as Fuji TV, NHK, JFA TV, DAZN, FUBO TV.
第4回彩湖リレーマラソン 2022#彩湖リレーマラソン
日付: 2022年3月20日(日)
開会式: 9:30
競技開始: 10:30
閉会式: 13:00
容量: 最初の200チーム
[リンク横顔を見る]
参加費:
1チーム:2万円
中学生1チーム:10000円
お一人様:4,000円 pic.twitter.com/Zyo8yNt3N3

— デイリースポーツニュース (@jpodsn) March 14, 2022
4th Aya Lake Relay Marathon 2022 Eligibility
1. Participation in the tournament is limited to the person who made the entry, and proxy participation is not permitted.
2. Players can only be changed during the entry period.
3. If a substitute run, false declaration of age, gender, etc., or fraudulent activity is discovered, the organizer may cancel the participation/commendation or deprive the person of participation qualification after the next competition. Insurance is not available if someone other than the person runs and is injured.
4. For duplicate entries, all entries will be invalid and the entry fee will not be refunded.
5. If the tournament cannot be held due to snowfall, road freeze, disaster, etc., we plan to refund the participation fee excluding necessary expenses.
6. Participants pay attention to health care and injuries, and after sufficient training, participate in the tournament at their own risk for injuries, illnesses, accidents, etc., and do not hold the organizer responsible.
7. Participants agree to receive first aid from a doctor, etc. In the event of a physical injury due to an accident during the competition. In addition, the subsequent treatment costs will be borne by the organizer, and the organizer will not be held responsible.
8. Participants acknowledge that compensation for injuries and accidents during the competition is covered by the sports accident insurance covered by the organizer, and will not claim compensation for damages.
9. Participants will follow good manners as competition participants and will not bother other participants, volunteers, and roadside residents.
10. If the participants are high school students or younger, their families and parents must consent to participate in the tournament.
11. Participants agree that the video, photos, articles, personal records, etc. of the competition will be published in newspapers, television, magazines, the Internet, printed matter, etc., but the rights belong to the organizer.
12. Participants agree that the photographer of the photo dealer authorized by the organizer will take the picture and post and sell the picture on the Internet. (Photos can be stopped or deleted, so please contact the event secretariat if you wish.)
13. The handling of personal information of participants is in accordance with the terms of the organizer, which is listed separately.
14. In addition to the above application rules, participants will follow the tournament rules and competition rules set by the organizer and will follow the organizer's operational instructions during the tournament.