Come back again "Pattaya Music Festival 2022", the biggest music festival in Pattaya under the measures to prevent the spread of COVID-19. Pattaya city prepares to explode oil pleasing music lovers Awaken the tourism trend After the omikron fell Organizes Pattaya Music Festival 2022 throughout the month of March, covering the entire city area.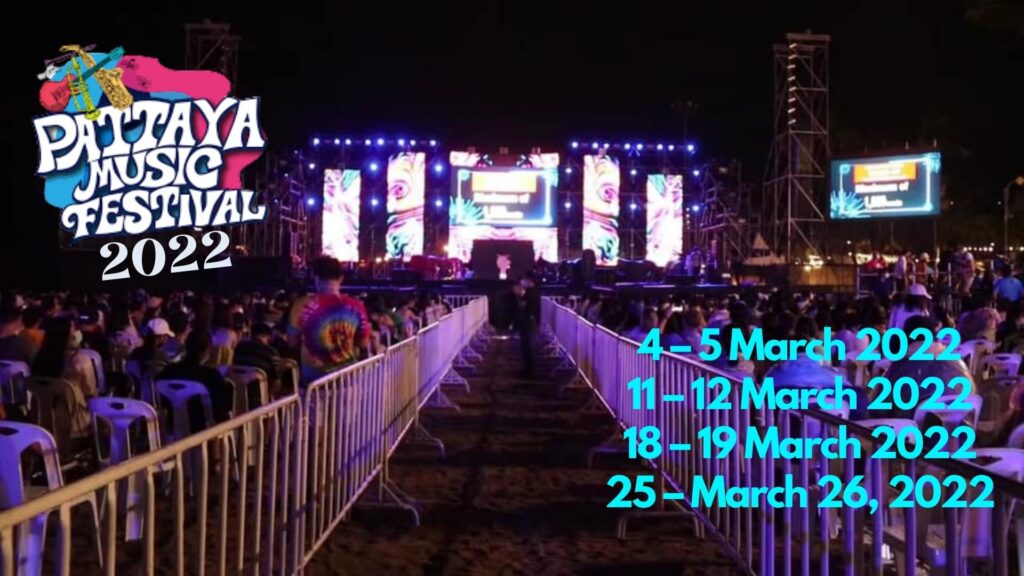 On February 14, Mr. Sonthaya Khunpluem, Mayor of Pattaya City disclosed the readiness of organizing a music festival Pattaya Music Festival 2022 that Pattaya City has now provided contractors or organizers to organize the event. The Pattaya Music Festival will bring the city of Pattaya back to life again. After the Covid-19 epidemic situation, Omicron species unfold, which will be held throughout March 2022 each week on 4 zones consisting of Central Pattaya Beach, South Pattaya, Jomtien Beach. and Pho Na Kluea courtyard
Mr. Sontaya said Pattaya Music Festival 2022 is another important event in Pattaya. in stimulating the economy and tourism after the COVID-19 epidemic situation The omikron species began to decline. As for the measures to prevent the spread of the epidemic In the past, organizing activities to promote tourism in Pattaya has taken measures to prevent the spread of COVID-19. always intensely Both the adoption of standard measures of Prof. brought along with the measures of the Public Health of Pattaya City. Both screening for those who will attend the event, artists and staff, including vendors with ATK test kits each day. In addition, those who will attend the event must show proof of receiving 2 vaccines against COVID-19. Needle to check the temperature before joining the event.
at Thappraya Conference Room Pattaya City Hall Mr. Wuttisak started the business, Deputy Mayor of Pattaya City. presided over the meeting to prepare for the Pattaya Music Festival (PATTAYA MUSIC FESTIVAL 2022) with the relevant agencies attending the meeting in unison.
Pattaya City together with the Chonburi Provincial Administrative Organization organized the Pattaya Music Festival (PATTAYA MUSIC FESTIVAL 2022) for Pattaya City It is a city of national music. and also to disseminate the image of the beauty of the beach in Pattaya as well as to stimulate the tourism economy as well which this year is held every Friday and Saturday Throughout March 2022, the amount of 4 weeks is as follows:
Pattaya Music Festival 2022 Overview:
Week 1,
4 – 5 March 2022, 3 stages at Pattaya Beach, North Pattaya Stage Central Pattaya Stage, and South Pattaya Stage
Week 2,
11 – 12 March 2022, 1 stage at Jomtien Beach
3rd week,
18 – 19 March 2022, 1 stage at Lan Pho Naklua Park
4th week,
25 – March 26, 2022, 1 stage at Pattaya Beach, Central Pattaya Beach Stage
The event has strictly screened participants for activities, limited to 500 participants. Participants must register via the Thai Chana Application or fill out registration documents every time entering and leave the event. Reserves the right only for those who check. Measure body temperature not more than 37.5 only – wear a mask 100%. Show results of vaccination only 2 injections. Wash your hands with alcohol gel before entering the Event zone * Sit and watch the concert at the designated spot only. The detailed measures conditions are subject to change without prior notice. (Doors open for participation from 17.00 onwards)
In addition, in the meeting, work assignments in each area, such as security, EOD units, medical units, traffic management cleanliness public relations, etc. To work in the same direction.
Detail for Pattaya Music Festival 2022, rules, traffic closures, and line-up released

4 – 5 March 2022
11 – 12 March 2022
18 – 19 March 2022
25 – March 26, 2022 pic.twitter.com/X4v0P9pyqZ

— Mosi Sports (@mosisports) March 2, 2022
Read more: Awards shows and Festival
Pattaya City invites to join with an army, singers, and musicians over 50 artists at the Pattaya Music Festival (PATTAYA MUSIC FESTIVAL 2022) every Friday – Saturday throughout March. Don't forget to wear a mask of social distance To prevent infection with the COVID-19 virus, ask for details at Performance Tourism Promotion Department Tourism Promotion Office of Tourism and Sports Tel. 038 253100 ext. 4115 or at Pattaya Contact Center 1337 24 hours a day.