BLACKPINK World Tour 2022-23: At midnight KST on August 9, BLACKPINK 's official Twitter account announced the schedule for their World Tour title "BORN PINK".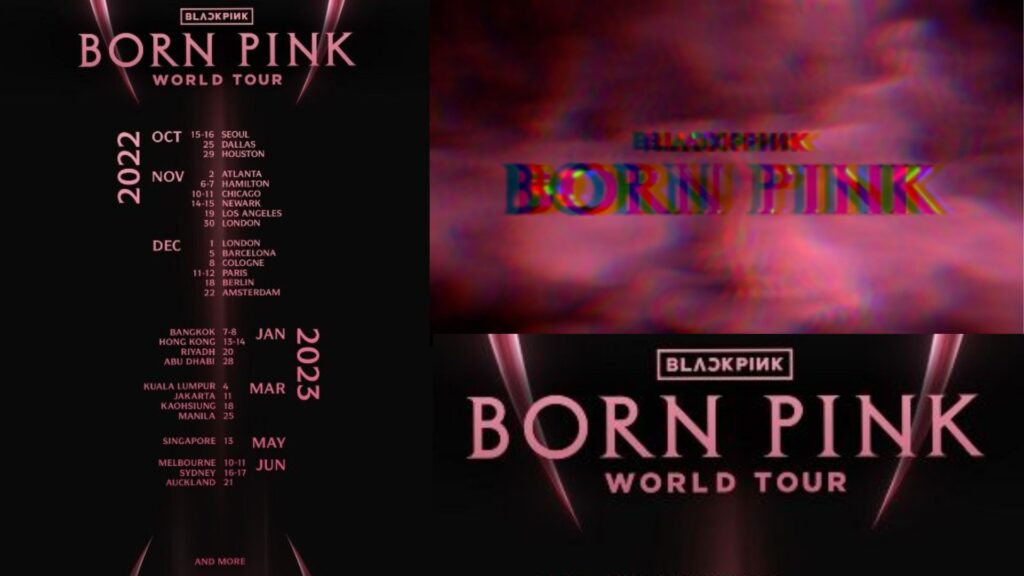 Previously, this girl group from YG Entertainment announced their comeback schedule after 2 years with a pre-release single titled "Pink Venom".
This time, Blink as BLACKPINK 's fandom doesn't have to wait any longer because BLACKPINK will hold a World Tour in various countries.
BLACKPINK World Tour 2022-23 announces comeback project "BORN PINK"
A trailer video announcing the schedule of BLACKPINK 's comeback project has been released.
In this video, while a fantastic and strongly addictive beat resounds, pink water droplets dripping from sharp fangs spread, and "August in Pre-Release Single", "September The roadmap for the future was announced, with an album release (ALBUM RELEASE) in October, and a world tour starting in October (BLACKPINK World Tour 2022-23: WORLD TOUR BEGINS). The project name is "BORN PINK". It is the unique identity of BLACKPINK, which boasts an overwhelming aura that is far from ordinary.
Global fans have already expressed great anticipation for the intense comeback project name and double title song notice, and the video surpassed 10 million views on the first day of its release and has been viewed on YouTube's worldwide trending channel. The video ranked first, and the teaser that announced the roadmap for the second half of 2022, which did not feature any member visuals, made the world go crazy and showed off its popularity as usual.
The "BLACKPINK IS COMING" hashtag won 1st place in Twitter worldwide trend. In addition, more than 1 million related hashtag posts were posted on Instagram, Weibo, etc. At once, demonstrating its powerful global influence.
#BLACKPINK WORLD TOUR 2022-23 [BORN PINK] SCHEDULE ANNOUNCEMENT#BORNPINK

BLACKPINK World Tour Announces 'BORN PINK' Schedule#블랙핑크 #WORLDTOUR #BORNPINK #SCHEDULE #ANNOUNCEMENT pic.twitter.com/EzZtsAc5u9

— Mosi Sports (@mosisports) August 8, 2022
In addition, leading sites such as Billboard in the US and NME in the UK are also paying attention to "BLACKPINK that the whole world has been waiting for is coming back" and are predicting that they will set new records on major global charts. We await their return.



BLACKPINK World Tour 2022-23 Schedule
– 15 to 16 October 2022: SEOUL
– October 25, 2022: DALLAS
– October 29, 2022: HOUSTON
– November 2, 2022: ATLANTA
– 6 to 7 November 2022: HAMILTON
– 10 to 11 November 2022: CHICHAGO
– 14 to 15 November 2022: NEWARK
– November 19, 2022: LOS ANGELES
– November 30, 2022: LONDON
– December 1, 2022: LONDON
– December 5, 2022: BARCELONA
– December 8, 2022: COLOGNE
– 11 and 12 December 2022: PARIS
– December 18, 2022: BERLIN
– December 22, 2022: AMSTERDAM



– 7 and 8 January 2023: BANGKOK
– January 13 and 14 2023: HONG KONG
– January 20, 2023: RIYADH
– January 28, 2023: ABU DHABI
– March 4, 2023: KUALA LUMPUR
– March 11, 2023: JAKARTA
– March 18, 2023: KAOHSIUNG
– March 25, 2023: MANILA
– 13 May 2023: SINGAPORE
– 10 and 11 June 2023: MELBOURNE
– 16 and 17 June 2023: SYDNEY
– June 21, 2023: AUCKLAND
And many more countries BLACKPINK World Tour 2022-23 to be announced.