Josh Taylor vs Jack Catterall: On February 26 in Glasgow (Scotland), the undisputed super lightweight champion Josh Taylor will defend his title and all four titles at once. His opponent will be the mandatory challenger according to the WBO Englishman Jack Catterall.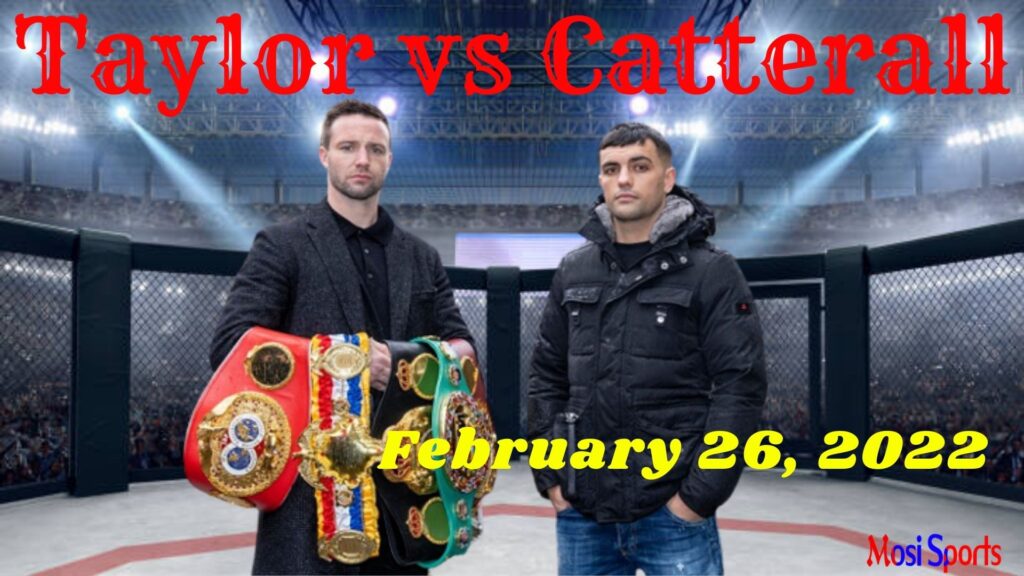 Josh Taylor vs Jack Catterall Overview
Date: Friday, February 25, 2022
Title fight: World Champion (WBC, IBF, WBO, WBA)
Venue: Glasgow, CCE Hydro, UK
Weight category: First welterweight (up to 63.5 kg)
Broadcast on: Sky Sports
Josh Taylor vs Jack Catterall fight card (light-welterweight titles)
Josh Taylor vs Jack Catterall
Robeisy Ramirez vs Eric Donovan
Nick Campbell vs Jay Mc Farlene
Cori Gibbs vs Carlos Perez
Ebonie Jones vs Effy Kathopouli
Scott Forrest vs Erik Nazaryan
Kurt Walker vs Jaroslav Hriadel
Paddy Donovan vs Miroslav Serban
Kieran Molloy vs Damian Esquisabel
Mark McKeown vs Laszlo Szoke
Craig MacIntyre vs Alexey Tukhtarov
Taylor said, "I am disappointed that on December 18th. I won't be able to defend my title as originally planned, but I wanted to make sure I was 100 percent healthy to show my incredible fans the show they deserved.
"This return home has been under development for a long time and will be worth the wait. I'll see you on February 26th."
Catterall said: "Everything is happening for a reason!
Josh Taylor vs Jack Catterall 🔥🔥

🏆For 𝐀𝐋𝐋 of the 𝐌𝐀𝐑𝐁𝐋𝐄𝐒! 🏆@boxxer | @trboxing pic.twitter.com/bev5PKTZHr

— Sky Sports Boxing (@SkySportsBoxing) February 24, 2022
About Josh Taylor:
Height: 178 cm
Arm span: 177 cm
Stance: Lefty
Age: 31
Nationality: British
Lives and trains: Great Britain
Wins: 18 (13 KOs)
Losses: 0
Draws: 0
Josh Taylor: statistics
Record in profiboxing: 18 wins (13 ahead of schedule), no defeats.
In ratings: absolute champion (World According to WBC/WBA/WBO/IBF)
About Jack Catterall:
Height: 170 cm
Stance: Lefty
Nationality: British
Lives and trains: United Kingdom
Wins: 26 (13 KOs)
Losses: 0
Draws: 0
Jack Catterall: statistics
Profiboxing record: 26 wins (13 ahead of time), no defeats Ranked
Taylor and Catterall held an open workout
Undisputed super lightweight champion Josh Taylor and mandatory contender for one of his titles Jack Catterall held an open training session in Glasgow, where they will face each other on Saturday at the Hydro Arena.
Josh Taylor vs Jack Catterall: fight prediction
The champion had to close the issue with mandatory defense at the end of last year – the fight was originally scheduled for December 18, but Josh injured his knee in training. As a result, the meeting was postponed for a little over two months.
But this is so, by the way. Taylor was the undisputed favorite and remains so. One of two things (or both) can prevent him from winning: health problems and/or blatant underestimation.
The rest is about boxers of different levels. Catterall is really good, but nothing more. And Taylor is an unconditional top with an iron place in the ten "pound". As they say, feel the difference. Jack just can't do anything that Josh can't. Moreover, the latter knows how to do everything better and performs much better.
Therefore, our prediction for the Taylor-Catterall fight will hardly surprise you. We believe that the maximum challenger is to last the entire 12-round distance. But if the champion wants to please the home audience ahead of schedule, he will most likely succeed.
Josh Taylor: Tornado of Tartan
The Scot is not one of those to whom the absolute championship fell in one moment, he diligently made his way to possession of all four titles, starting with the title of "Prospect of the Year" back in 2017.
Then there were more and went on ascending. Taylor achieved participation in the Super Series by defeating the uncompromising Ukrainian ex-champion Viktor Postol, and Ryan Martin, Ivan Baranchik, and Regis Prograis went directly to the WBSS one by one, by the end of 2019, taking over the WBA and IBF belts.
In the meantime, the two remaining were concentrated by José Ramirez. With him, Josh entered the ring in May last year and won the traditionally spectacular victory by unanimous decision.
The Scot seems to be about to rise higher and is testing the ground under a mega fight with Terence Crawford. But so far, the conversation has not gone further, and Taylor, in order to maintain the prestigious title, must fulfill the championship obligations against British compatriot Catterall.
Jack Catterall: "Cat"
Just like Taylor, Jack did not become a contender from the bay, but patiently made his way to the first line of the rating. This is a typical British homebody who, on the way to international recognition, killed a lot of compatriots and brought overseas guests.
Unless Catterall started not by winning the national title, as usual in Foggy Albion, but already in the 10th pro fight he became the owner of the WBO regional belt, and beat the favorite in the person of Thomas Stalker. Since then, and this was back in 2014, Jack has not changed the WBO, so it is not surprising that the organization made him their official challenger and insisted that Taylor not shirk the fight.
There are no stars of the first magnitude in Catterall's track record, and from the small towns, he successfully coped (on points) with Tyrone McKenna and Ohara Davis.
Taylor vs Catterall Live Stream
You can watch the fight Josh Taylor – Jack Catterall online on the evening of February 26, 2022. Detailed information about the live broadcast will appear on our website on the eve of the boxing show.