Buriram Marathon 2022: The competition "Buriram Marathon 2022 Presented by Chang Drinks" is scheduled to be held on Saturday, January 22nd in Buriram Province, where the competition management has announced the official opening of applications. Former runners will be allowed to apply first starting November 1st, and general runners will be able to apply to start November 2nd.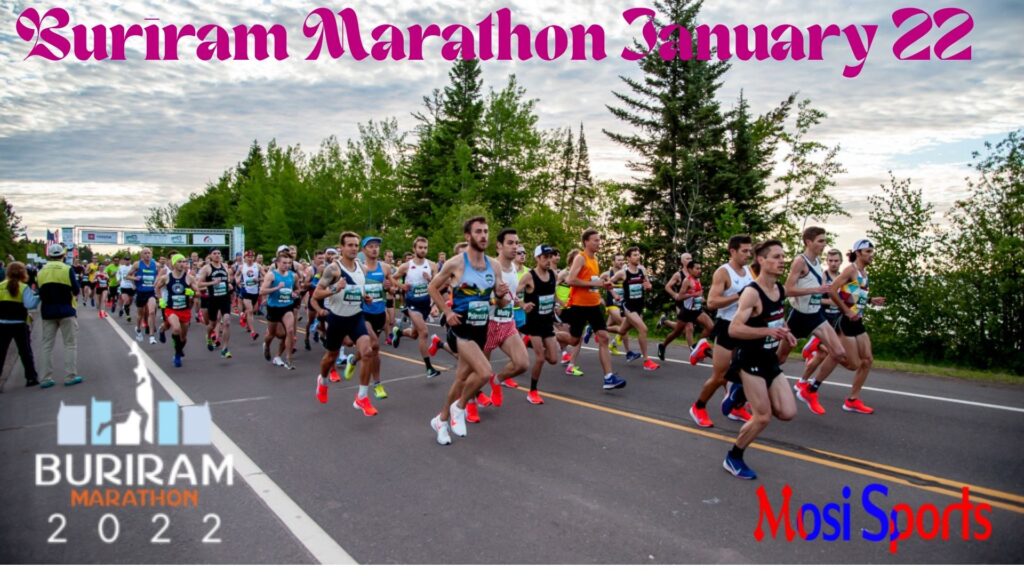 There are 4 sorts of races: 1) Fun Run (6 km.), 2) Mini Marathon (10 km.), 3) Half Marathon (21 km.), and 4) Full Marathon (42.195 km.) The course begins at Chang International Circuit and finishes at Chang Arena. Sprinters can participate in races where there is a list of field and race track travelers. Buriram Marathon will occur on 22 January 2022 as it were.
About the Buriram Marathon 2022 Overview
Event Name: Buriram Marathon
Event Date: Saturday, January 22, 2022
Start Time: 18:30
Event Venue: Buri Ram, Thailand
Category: World Athletics label road race.
Starting time:
Marathon (Start:18.30 End:2.00)/Half Marathon Start:20.00 End:00.30)/Mini Marathon(Start:21.00 End:23.45)/Fun Run (Start:21.45 End:23.30)
Full Race:
Marathon-42.195 Kilometers (cut off:07:30 hours), Half marathon-21.097 Kilometers(cut off:04:30 hours), Mini marathon-10 kilometers(cut off:02:45 hours), Fun Run-5.5 kilometers (cut off:01.45 hours)
Buriram Marathon 2022 Schedule, Date and Time
For the "Buriram Marathon 2022," the race will be held at night. with a running distance and schedule the release time of each period as follows
Saturday 22nd of January 2022
competition type: Marathon
Start time: 18:30
Distance: 42.195(km)
limited time: 7 hrs. 30 min
competition type: Half Marathon
Start time: 20:00
Distance: 21.1(km)
limited time: 4 hrs. 30 min
competition type: Mini-Marathon
Start time: 21:00
Distance: 10(km)
limited time: 2 hrs. 45 min
competition type: Fun Run
Start time: 21:45
Distance: 5(km)
limited time: 1 hrs. 45 min.
2022 Buriram Marathon Participants, Full Marathon Info
Participants: Elite runners from Thailand, Laos, Ethiopia, Kenya, and other nations routinely compete in the marathon race.
Marathon: 42.195km
1st place: 100,000
2nd place: 50,000
3rd place :30,000
Half Marathon: 21.1km
1st place: 50,000
2nd place: 25,000
3rd place :15,000
Mini Marathon: 10km
1st place: 20,000
2nd place: 12,500
3rd place :7,500
Buriram Marathon 2022 Fees or Price Money
Marathon
Thai Citizens :1,040(THB)
EXPATS:1,240(THB)
OVERSEAS:1,540(THB)
Half Marathon:
Thai Citizens :840(THB)
EXPATS:1,040(THB)
OVERSEAS:1,340(THB)
Mini Marathon:
Thai Citizens: 640(THB)
EXPATS:840 (THB)
OVERSEAS:1,140 (THB)
Fun Run: 540(THB)
About This Buriram Marathon information
The Buriram Marathon was created by Mr. Neuin Chidchab and presented by Chang's drink. President of Buriram United, and the Executive of Transformation of the International Circuit,
with the aim of promoting Buriram as the "Sports City Center of Thailand". The marathon event is regularly attended by elite runners from Thailand, Laos, Ethiopia, Kenya, and other countries.
How to watch the live stream Buriram Marathon 2022
Live broadcast Buriram Marathon Presented by Chang at Buri Ram, Thailand. The information will be placed here if the event has a live stream or live TV coverage.
Can I watch the live stream of Buriram Marathon for free on Youtube?
You can watch the full free marathon race on BURIRAM MARATHON official youtube channel.
Buriram Marathon 2022 Online Live Stream TV:
If the marathon is aired on becteroTV, Premier Sports subscribers will be able to stream Buriram Marathon live directly via the premier player and TV channel. We do not provide TV schedules here. To watch this long-distance race on TV, you can think that it is on more well-known channels like ELTATV. SPOTV BMC TV becterotv, DAZN, FUBOTV.
If this race is covered by live streaming on TV, you can watch the Buriram Marathon on your iPhone, iPad, Android, or Windows Phone.